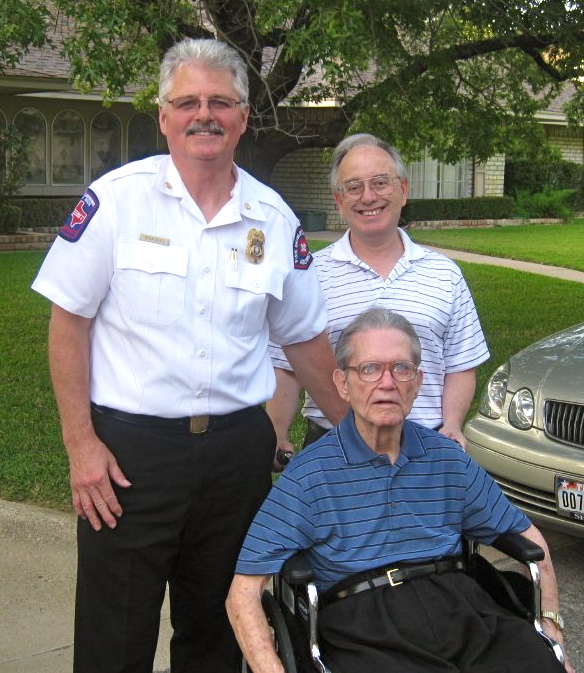 Dusty Watkins and son Randy with Asst. Fire Chief Brian Riley
When long time Interlochen resident Dusty Watkins turned 87 in 2012,  his son Randy and Porto Bello neighbor Amir Ajami set up a special birthday party with a guest appearance by Dusty's friend, Arlington Assistant Fire Chief Brian Riley.
When Dusty was "only" 75 he was the oldest volunteer to go through Chief Riley's Arlington civilian fire training program. That training included climbing (with full equipment) the ladder up a building and rappelling back down. Wow!
Accompanying Chief Riley at Dusty's brithday celebration were friends from local Fire Station #4 on Randol Mill Road. Fire Lt. Eddie Spurgin and his men demonstrated their latest piece of equipment — a specially outfitted and fully supplied Suburban, which can get EMT responders to the scene of an emergency faster than the full sized fire engine. Additionally, Lt. Spurgin said reduced wear and tear on the big fire trucks and better gas mileage with the customized vehicles will save taxpayers' money.
If you have a chance, stop by Fire Station #4 and visit these men who will be happy to give you (and your kids and grandkids) a tour of the facility.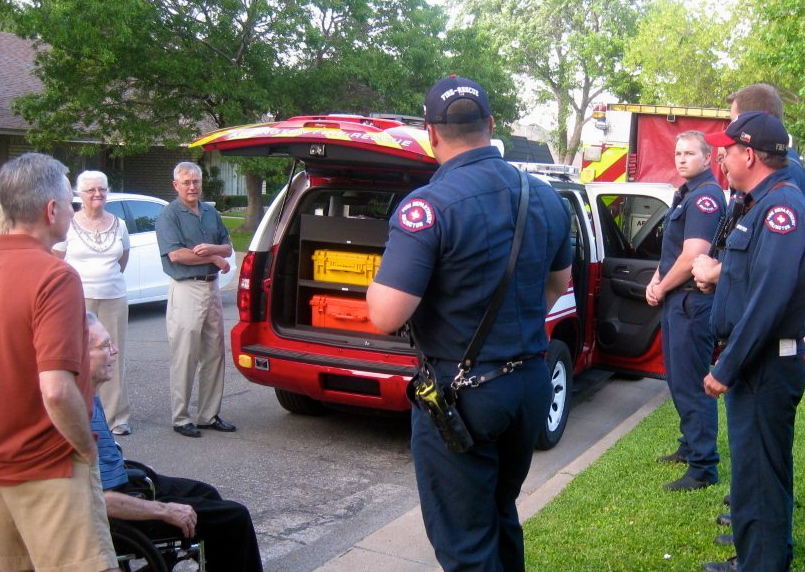 Arlington Fire Department's new customized Suburbans were showcased on Porto Bello for Dusty Watkins' birthday gathering