Thousands of cheerful children, young and old, smiling from vehicles winding through the wonderland of our neighborhood.
Boats, calmly cruising brilliant with lights, with Christmas carols echoing across the channels.
Lakeside homes alive with holiday decorations, reflecting in the water.
Oh what fun! It's Christmas 2016 in Lake Interlochen.
Two photos of contest winner at 1415 Porto Bello: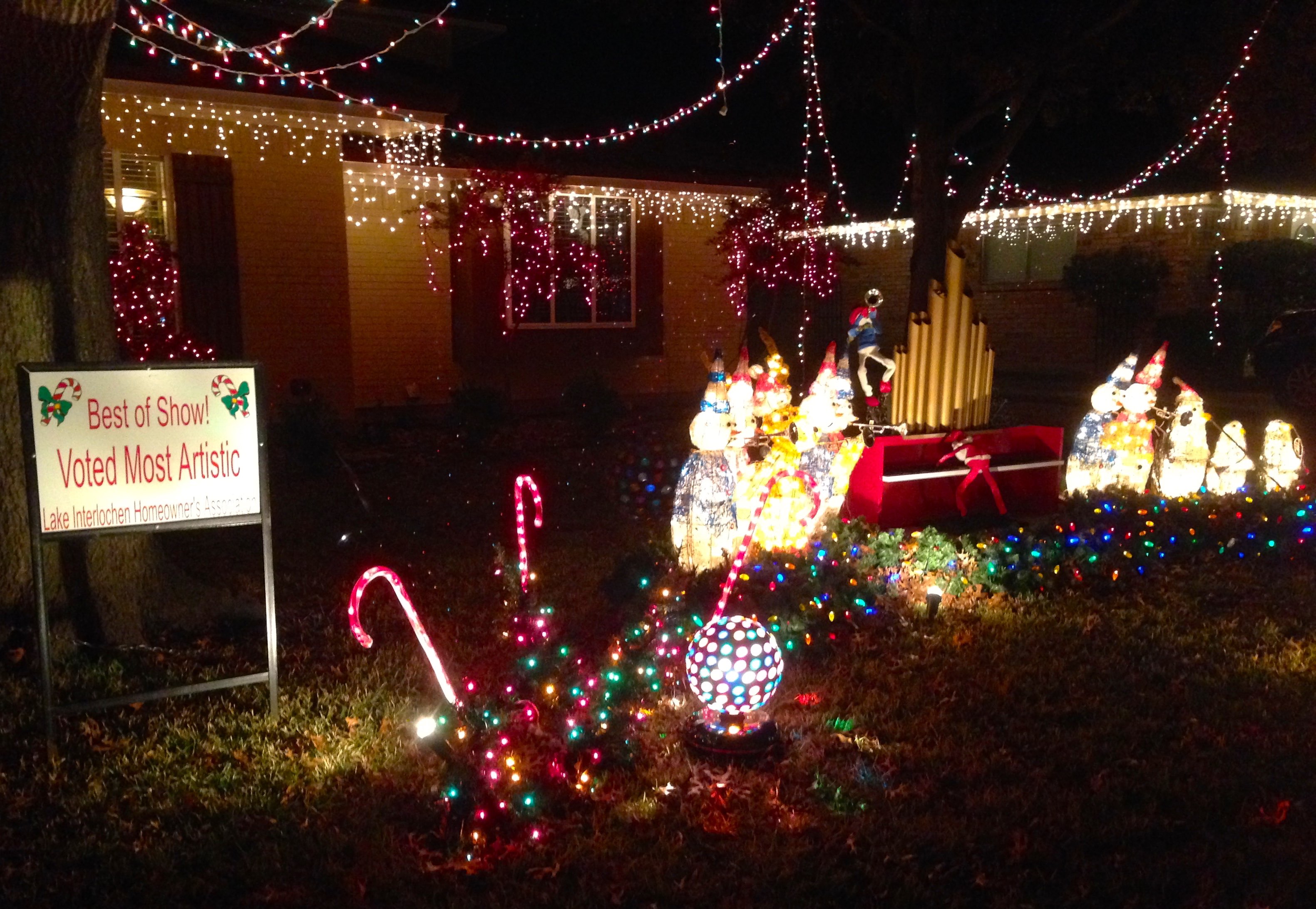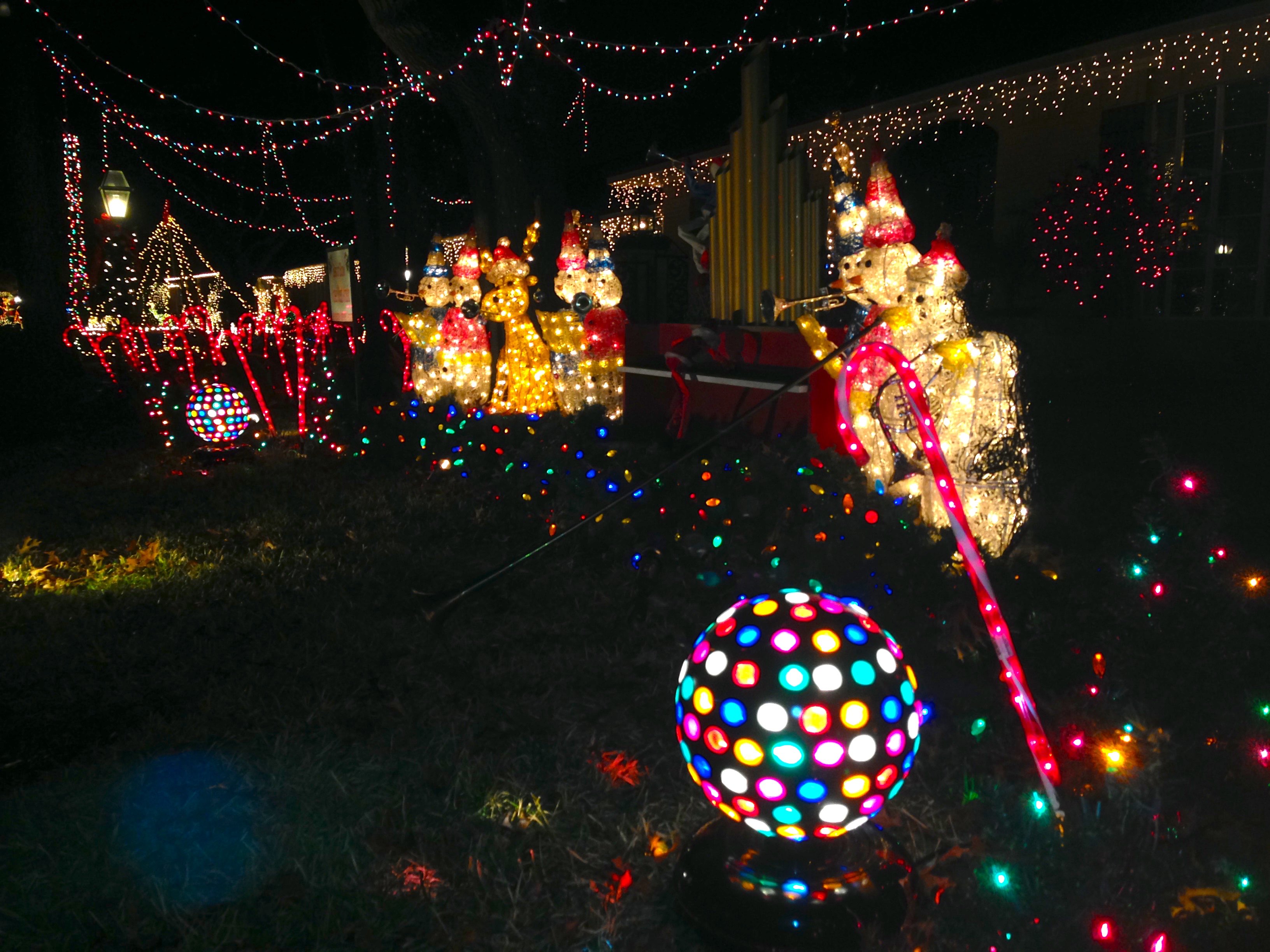 Photos from the Christmas Lights Boat Parade: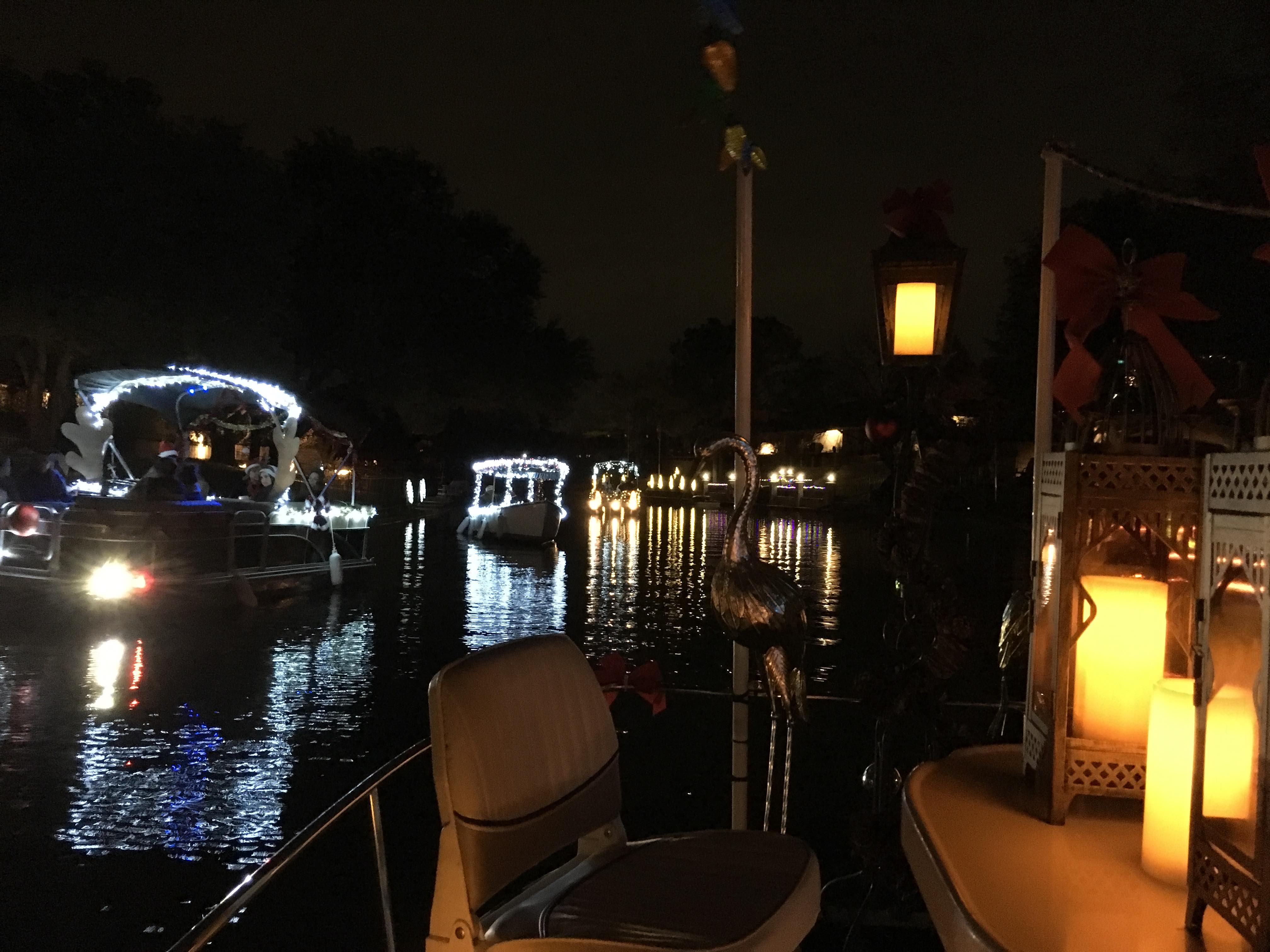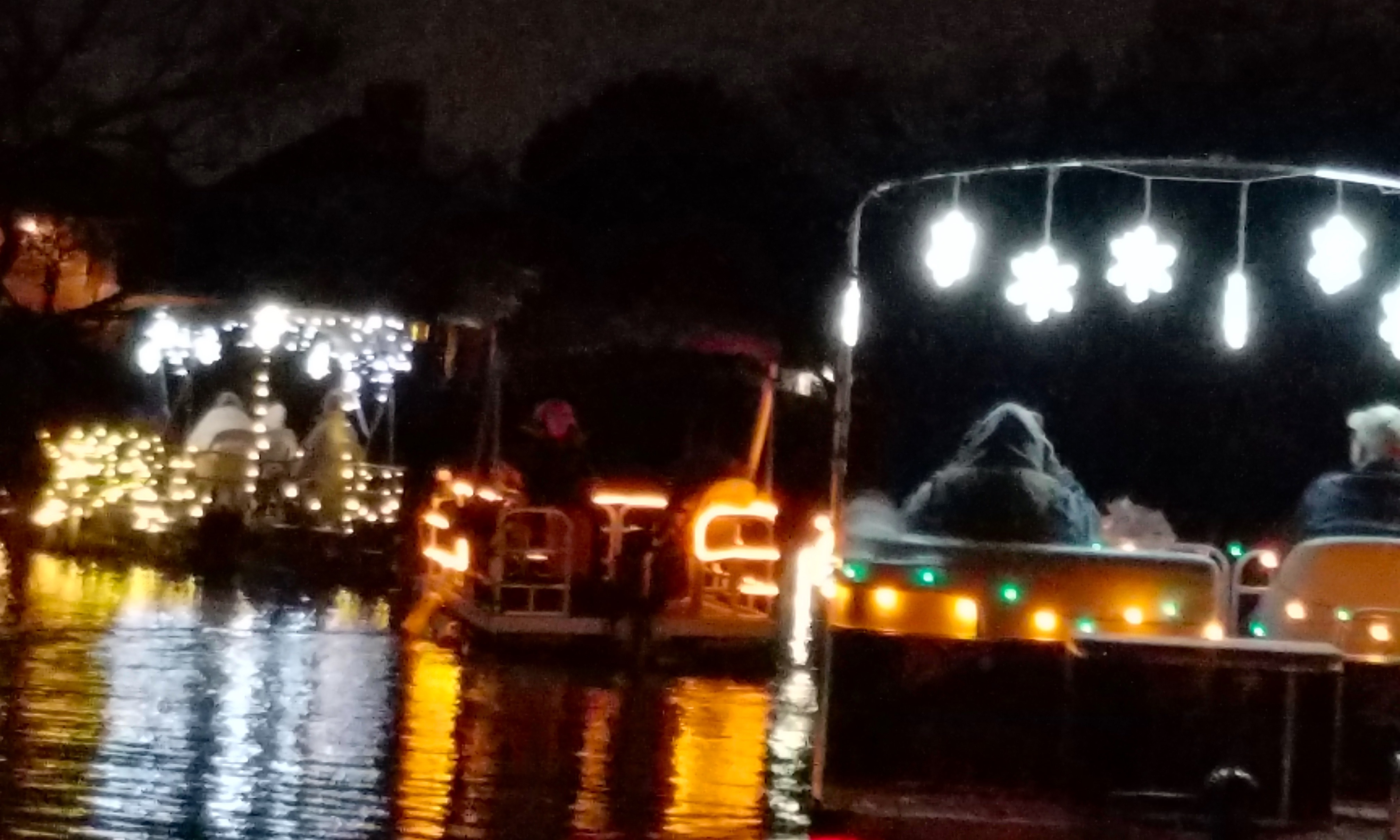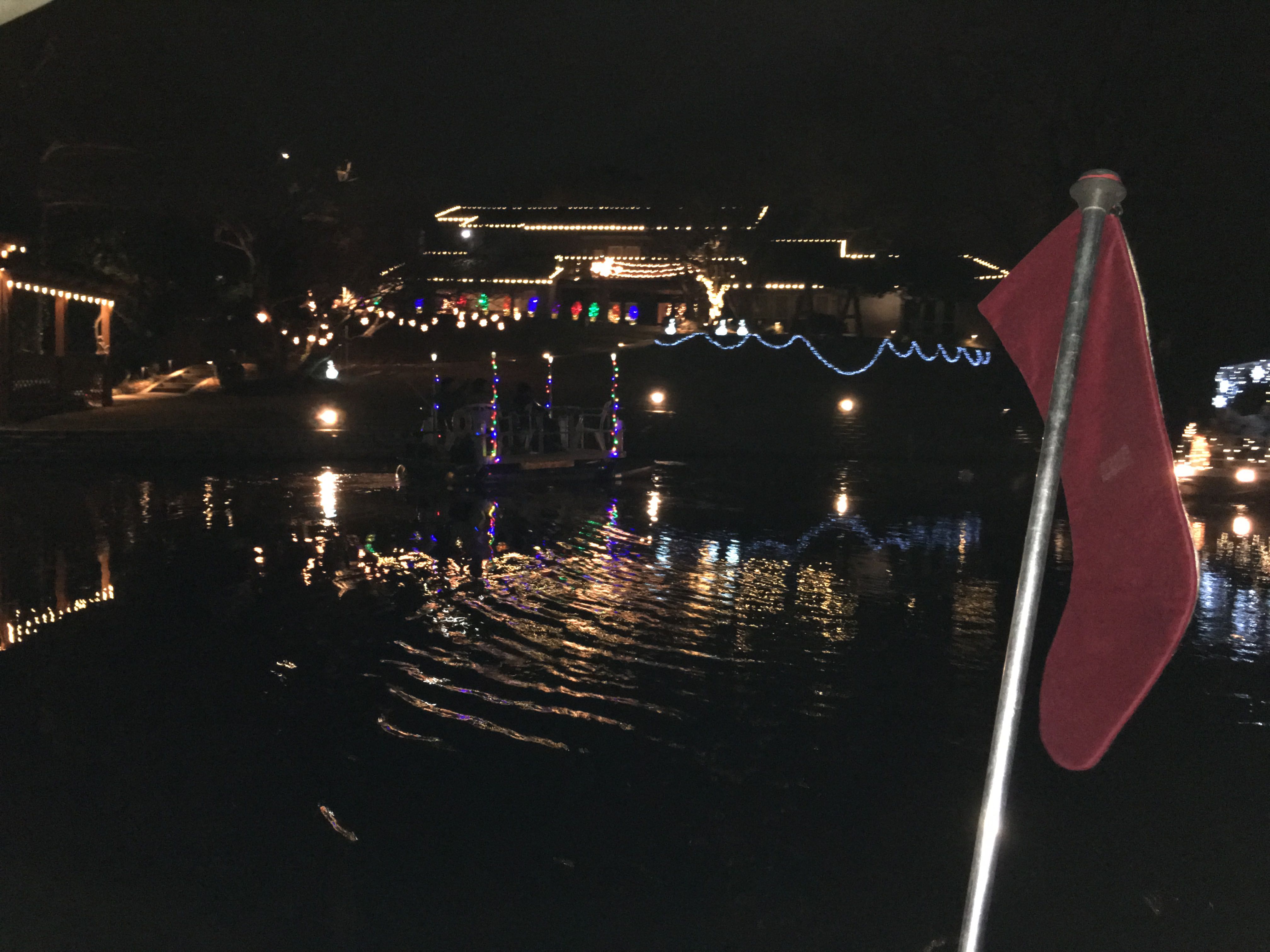 Results of the annual Christmas decorating contest:
The Porter Award–This first time award named in honor of our first HOA President Vernon Porter goes to the Flanigan Family at 1421 Porto Bello for their backyard lakeside decor which is almost as much fun as the front of their beautiful home.
The Findlay Award –Named in honor of Bob Findlay, the late developer of Interlochen whose wife Carole still lights up their home, this prize for lifetime achievement is well deserved by the Farris Family at 1118 Crowley who are still going strong as they begin their 5th decade of decorating.
Most Artistic I –Mike Saliba and Ken Simoneaux of 1415 Porto Bello not only decorated their own lawn beautifully with coordinated music and lights but this year helped several neighbors and also organized the Boat Parade of Christmas Lights.
Most Artistic II –The Davis Family has a fantastic collection of blow ups that includes two unique Nutcrackers that frame their front entrance at 1300 Crowley.
Best Theme I –The Lancaster Family at 701 Loch Lomond won a close vote this year for their "Star" theme with two nearby neighbors who are sure to win in coming years.
Best Theme II — New residents Miranda Coffey and Mindy Brantley haven't even completely moved into 1429 Porto Bello but they have maintained the Porter's famous "Merry Christmas" sign and added a fun "Star Wars" theme. An incredible first time effort.
Santa's Choice –The Garcia Family has done a great job for many years and finally won a well deserved award for their beautiful blue lights at 1110 San Juan.
The Santa Award –The Simek Family at 1004 Loch Lomond stepped it up a notch this year to impress their grand kids (and the judges) with dancing lights around their two-story home.
The People's Choice — The Woolsey family of 1205 Findlay did a wonderful job, especially with their miniature wooden church.
The Griswald Award — In the spirit of the classic movie Christmas Vacation, the Renfro Family went all out and over the top at 1023 Loch Lomond lighting almost every square inch of their lawn from the street to their house.