Selecting only 10 winners each year from the 200 who decorate along the route is an almost impossible task. We make it a little easier by not considering any home that has won in the last two years.
The Griswald Award. 1023 Loch Lomond. Val Renfro must be related to Chevy Chase because her home is a Christmas Vacation scene of over the top lighting every single year.
The Findlay Award. 1120 Crowley. The Seipels have beautifully refurbished their hand made manger scene and are deserving winners of this award named after the late Interlochen Founder Bob Findlay for a Lifetime Achievement of faithful decorating for over 40 years.
The Porter Award. 1408 Crowley. Javier Gonzales-Herba is a relative newbie to the neighborhood but a winner for his best lakeside decorating (visible at the Westwood fountain) in honor of our first HOA President Vernon Porter.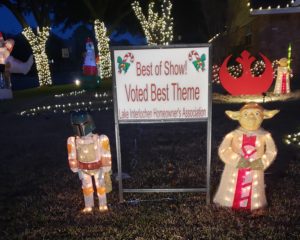 Best Theme I. 1429 Porto Bello. The Brantleys must have every Star Wars inflatable and light saber ever made. As Yoda himself might say: Amazing, they are!
Best Theme II. 1104 Montreau. Pat Jenkins put together a Winter Wonderland of giant snowflakes that earned special recognition but everyone on Montreau Court deserves kudos for their collective presentation.
The Santa Award & Santa's Choice. 1415 & 1416 Porto Bello. Mike Saliba, Ken Simoneaux and the Youngs. Speaking of a team effort, they literally went above and beyond this year. In addition to their own spectacular yard displays, they helped one neighbor decorate her yard and helped another neighbor launch his Space Force Santa into the Interlochen Sky.
Most Artistic  I. 621 Portofino. The Coombes Family. After being a close runner up for several years, this colorful yard finally broke through to the top 10.
Most Artistic II. 1112 Crowley. The Stinchfields. Every year the judges try to recognize a Rookie of the Year and this effort in their first Interlochen Christmas stood out among several other strong debuts.
The People's Choice. 707 Findlay. The Carringtons terrific Reindeer Games display under their red and green wrapped trees had the most nominations from their fellow residents to capture this coveted honor.