The Lake Interlochen Independence Day Boat Parade is like Christmas in July. So much joy and so much neighborhood fun on a beautiful summer night with friends and family.
Many thanks to Mike Saliba and Yvonne Pendleton for their play by play and color commentary. John LeBlanc sang a beautiful version of the Star Spangled Banner to begin the parade and Ken Simoneaux provided patriotic music on the water along the entire route. Ken Seipel was a terrific choice for Grand Marshal. Thanks to all the boat owners who worked so hard on their decorations and to the many spectators who cheered them on.
It was difficult for our volunteer panel of judges to choose from among so many worthy entries but here are the winners:
1st Place–The Sobel family with their Patriotic Salute to Trumpy Bear.
2nd Place–The Duperre family with their Pirates of Lake Interlochen.
3rd Place–The Pendleton family with their Bull Riding Grandchildren.
GRAND MARSHAL KEN SEIPEL: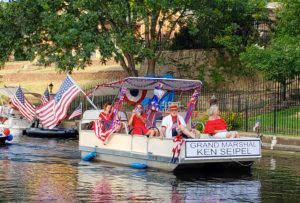 FIRST PLACE: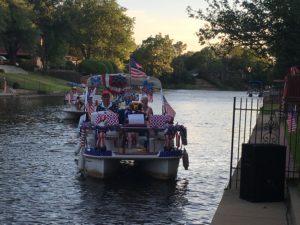 SECOND PLACE: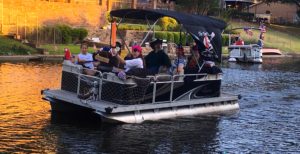 THIRD PLACE: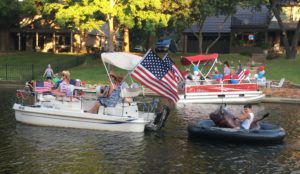 MORE FUN PHOTOS: